KorTerra Field allows you to attach files to a ticket. You can attach files while online and offline. In addition, you can attach files directly from your device or take a photo directly in the KorTerra Field app (mobile or tablet only).
Uploading Attachments
From the Ticket Card View or Ticket Details page, select the Attachment (paperclip) icon.
Select the blue Attachment (paperclip) icon.
A pop-up will appear.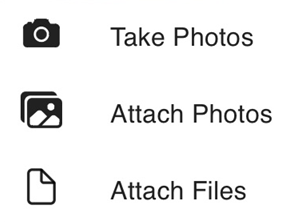 (IOS, Android, and Windows) Take Photos: You will use KorTerra Field's in-app photo capture capabilities. Any photos taken with this option will not be added to the device's gallery. When selected, a camera screen will appear. Tap on the Capture button to take the photo. Once the photo is taken, it automatically uploads to the ticket. Ensure that you have authorized KorTerra Field have permission to access to your camera. See App Permission for additional details. Photos attached with this option on iOS and Android include EXIF data.
(IOS and Android) Attach Photos: You can attach photos directly from your mobile phone's photo gallery. Depending on the device you may need to give KorTerra Field permission to access the gallery. Photos attached with this option include EXIF data.
(IOS, Android, and Windows) Attach Files: You can attach any file type (including pictures) to the ticket, as long as the file type is permitted by your administrator. Photos attached with this option may not include EXIF data.
4. Attachments will automatically upload in the background. Once uploaded, a thumbnail image will appear on the attachment screen.
5. Once uploaded to the ticket, attachments will sync in the background. See the Sync Functional and Status section for additional information on syncing. Once synced, attachments cannot be deleted from KorTerra Field at this time.
Important notes:
You may be limited by your organization in the size and type of file you are allowed to upload to a ticket.
iOS and Android: photos must be uploaded in 10 qty batches. If you have 50 photos to attach, you will need to do 5 batches. If you use the in-app photo capture, there is no limit.